Missing Persons: Christoph "Chris" Zahn
Christoph "Chris" Zahn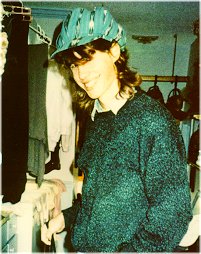 Contact Info:
GBI Tip Line at 1-800-587-TIPS
Last Seen: April 28, 1992 at American Hotel across the street from bus station in Atlanta.
The Atlanta Police Department, the Cobb County Sheriff's Office and the GBI are investigating the disappearance of Chistoph "Chris" Zahn, a 21 year old Swiss citizen, who was last heard from on April 28, 1992, while he was visiting Atlanta. Police suspect foul play was involved and need the public's help in obtaining information that might lead them to the location of his body.
Zahn was 6' tall and weighed about 160 lbs. He had light brown hair, brown eyes and a fair complexion. He had a scar on his chin and was last seen wearing a turquoise cap and blue jeans. He spoke English with a slight German accent.
On April 27, 1992, Zahn had taken an overnight bus from Jacksonville, Florida, to Atlanta and checked into a hotel across the street from the bus station.
Zahn was last heard from at 4:15pm on April 28, 1992, when he placed a call to his travel agent in Orange County, Florida, from a telephone at the Denny's Restaurant on Mountain Industrial Boulevard in Tucker, Georgia.
Between April 30 and May 11, Zahn's credit card was used 31 times in the Atlanta area, including Cobb & Carroll Counties. Arrested and convicted in connection with these fraudulent credit card transactions was Harry Eugene Hale, a 47 year old white male who lived & worked in the Austell area from May through October of 1992. Hale is 6'1", 185 lbs. with thin, graying brown hair and green eyes. Hale has homes in Kentucky and Florida. He was arrested in Miami, Florida on Carroll & Cobb County warrants on forgery related charges for using Zahn's credit cards.
At the time of Zahn's disappearance, Hale drove a 1993 red Ford Probe with Ga. Tags. We are asking that anyone with any information on Chris Zahn, to call the GBI Tip Line. Also, anyone with any information on Harry Hale, particularly anyone who might have seen Hale and Zahn together, maybe in a red Ford Probe, please call the GBI Tip Line at 1-800-587-TIPS.
Hale.jpeg