Robberies: Siloam, GA Sunrise Food Store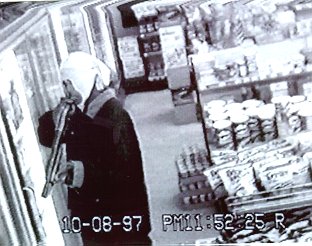 On Thursday, October 9, 1997, the unidentified (pictured left) and two unidentified accomplices entered Sunrise Food Store located at the intersection of Highways 77 and 15, Siloam, Georgia and robbed the cashier at gun-point of an undisclosed amount of cash.
The Greene County Sheriff's Office is offering a $500 reward for information leading to the identification, arrest and conviction of the above robbery subjects. Anyone having information concerning the identity of the robbery subjects should contact Investigator Scott Pecore, Greene County Sheriffs Office, (706) 453-3351, or Georgia Bureau of Investigation's Milledgeville Office at (478) 445-4173.