Unsolved Homicide: 1980 Morgan County Murder
1980 Morgan County Murder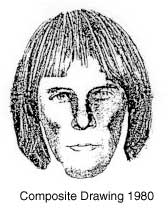 Subject is described as being a white male, 6'0 - 6'2", 170 - 180 lbs., very blond hair and slender build
The subject depicted in the composite drawings is wanted for questioning in a murder that occurred on Highway 441 in Morgan County, Georgia, on November 16, 1980, between 6:00 and 7:30pm.
The victim in this case had participated in a road race in Commerce, Georgia, earlier that day and was driving south on Highway 441, towing his racecar, when a silver mustang occupied by two white males passed the victim's truck. The passenger in the mustang crawled out of the car's window, sat on the window ledge of the door and threw a bottle or can at the truck. The mustang then drove off.
The victim and several of his friends who were following him attempted to stop the mustang by surrounding it with their vehicles. When they had the mustang boxed in, the victim got out of his truck, walked up to the mustang and threw a wooden baseball bat at the windshield. The driver of the Mustang drove down the road a short distance, turned around and while driving past the victim, fired several rounds from a 9mm pistol. The victim was struck once and died at the scene. The 9mm was described as being either a Walther, Browning, or Smith and Wesson.
The subject reportedly drove a 1976 - 1980 silver colored mustang bearing South Carolina license plates. The vehicle may have had a burgundy vinyl top. There was damage to the windshield or window,
The 1980 composite of the subject was prepared based upon information provided by eleven witnesses. The subject, who was seen at the Commerce racetrack, is believed to be an avid car-racing fan from South Carolina.
Anyone with information concerning this crime is asked to call the Georgia Bureau of Investigation's Milledgeville Office at (478)445-4173 or the GBI Tip Line at 1-800-597-TIPS.
morgan2.jpeg