Unidentified Remains: Jackson County, Black Female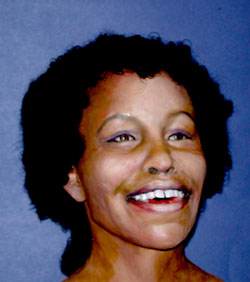 Contact Info:
Jackson County Sheriff's Office at (706) 367-8718
On August 19, 2001, the decomposed body black female was found in Jackson County along Interstate I-85. The victim was between the ages of 17 and 24 years and was wearing a blue, white and green striped "No Boundaries" halter top, a "No Boundaries" size 3, dark blue denim jeans, "No Boundaries" size 6 panties and white athletic socks with the logo "FUBU".
The victim's teeth indicate multiple dental restorations with the front teeth protruding out with a slight gap in the middle. The victim's black hair was wavy and approximately 6" long.
Anyone with information on the identity of this person is asked to contact the Jackson County Sheriff's Office at the above number.
Additional image:
Unidentified Remains - Jackson County - Black Female