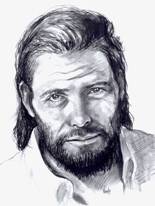 Contact Info:
GBI Regional Office in Cleveland - 1-888-233-5680
The decedent frequented truck stops in Georgia, Texas, Oregon, Missouri, and Arizona.  The decedent owned his own rig and went by the CB radio handle of "BA" or "Bad Attitude".  The decedent may have been a member of a motorcycle gang, and his name may be Freddie Akers.
Dental Records are available.